Yorkshire Air Ambulance (YAA) celebrated its annual recognition awards on October 19, 2023, at The Principal Hotel, York. The awards evening is a heartfelt tribute to Yorkshire businesses, fundraisers and volunteers who have played a key role in raising vital funds for the life-saving mission of YAA.
YAA staff meticulously selected the finalists, honouring their dedication and willingness to go above and beyond to support the charity and whose commitment to YAA's life-saving mission has made a significant difference. Their dedication serves as an inspiring example of the positive impact that a community united in a common cause can achieve
As an independent charity, Yorkshire Air Ambulance, relies on the generosity of the public and fundraising initiatives to sustain its life-saving operations.
Linda Stead, Regional Fundraising Manager for North & East Yorkshire, shared her delight about recognising the outstanding fundraising successes throughout the North region. She expressed her gratitude, stating, "We are delighted to be able to recognise some of the fundraising successes across our region and give back to the people who have worked tirelessly to support Yorkshire Air Ambulance over the years. We have a fantastic bunch of avid supporters in the North, who are committed to supporting our vital mission. It is inspiring to work with so many selfless people, and myself and the team are thrilled to have been able to support them on their fundraising journeys."
The following remarkable individuals and organisations were honoured at the YAA's annual recognition awards in the North Yorkshire region:
Volunteers Award: Peter Covill.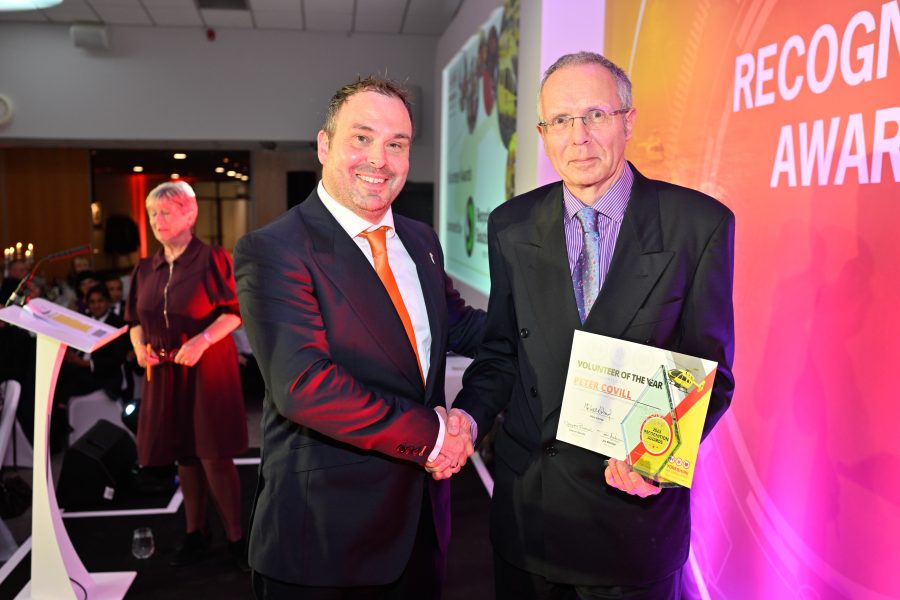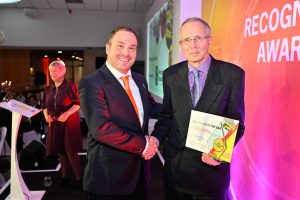 Peter Covill, a longtime YAA supporter, has made a lasting mark through his dedicated volunteering. Since Peter's initiation as a volunteer in 2019, he has emerged as a steadfast and beloved member of the team. His enthusiasm for driving the YAA Promotional Vehicle to numerous events has significantly amplified our community fundraisers' outreach, driving increased awareness and regional income. Leveraging his versatile skill set, cultivated during years of employment at Menwith Hill and as an HGV driver, Peter's unwavering work ethic and his commitment to championing our cause radiate through his contributions.
Community Groups Award: Peter Fall from Barn that Rocks.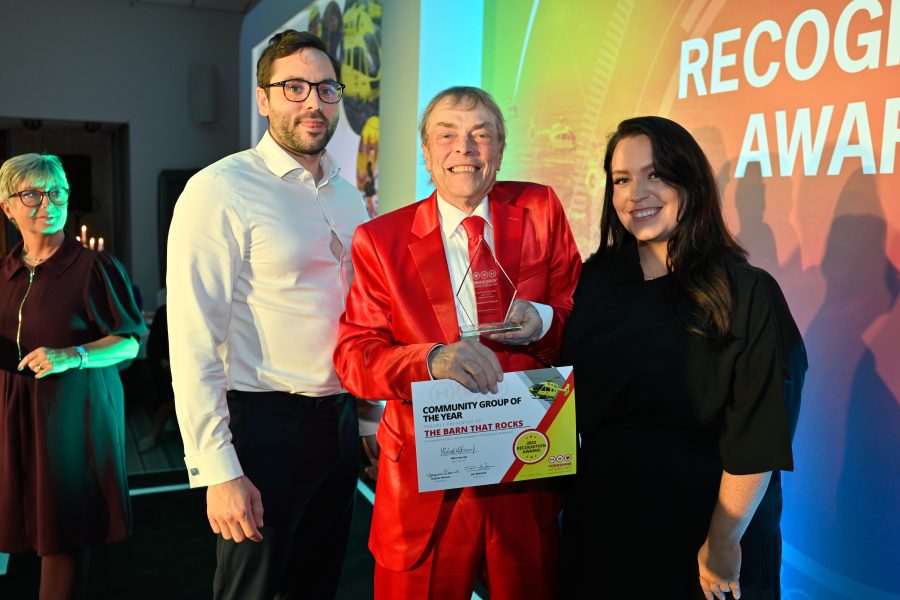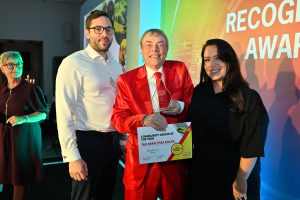 Peter, his family, and his iconic red suit have been instrumental in raising substantial funds for numerous charities at the beloved Barn that Rocks event in North Yorkshire. YAA was fortunate to be chosen in 2013 when the event was in its infancy. Peter's incredible knowledge of music and bands, combined with his exceptional organisational skills, ensures that every aspect of the night is executed flawlessly, leading to events being sold out within days of ticket release. Peter is cherished and admired by his followers, and Yorkshire Air Ambulance is immensely proud to be associated with one of the Dales' most successful events.
Individual & Supporter Organisations Award: Pierre Olesqui from Tour De Aky, and Claire Hartford.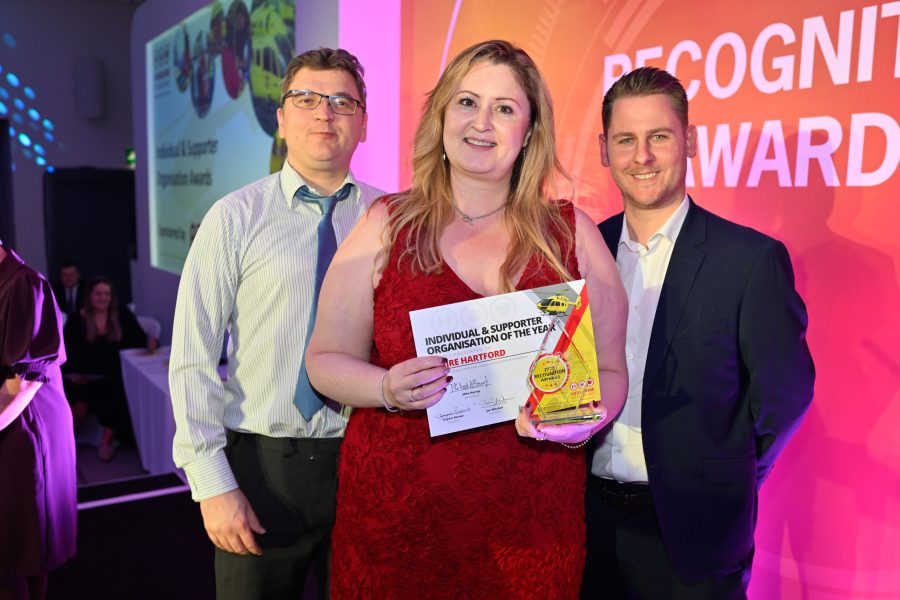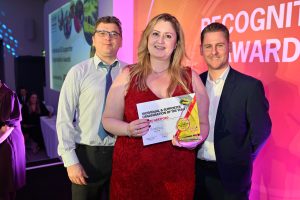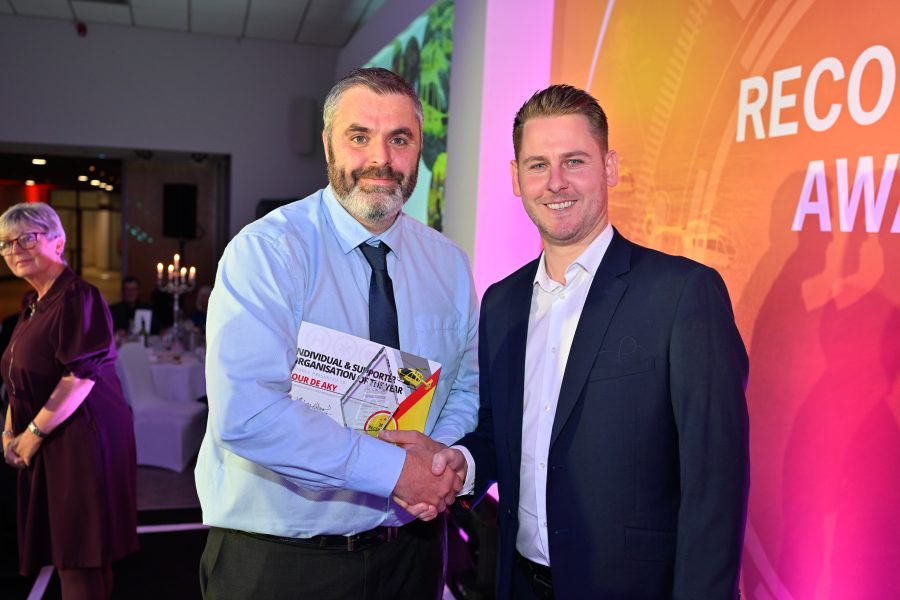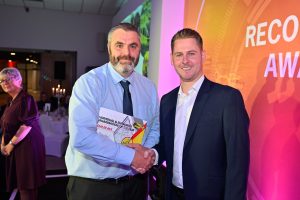 Pierre Olesqui has been organising the Tour De Aky for five years, raising funds for charities such as MIND, Andys Man Club, and Yorkshire Air Ambulance. This ride is a tribute to his dear friend and colleague, Mick "Aky" Atkinson, a North Yorkshire Police Dog handler who tragically lost his battle with mental health. The event promotes mental health awareness and encourages open conversations. In 2023, around 70 riders participated, raising over £12,000 for the three charities. YAA has benefited from a total of £16,000 over the last five years as a result of Pierre's support.
Claire Hartford, inspired by the memory of Patrick McDonough, has been an exceptional fundraiser for Yorkshire Air Ambulance. Her unique approach of painting stones for donations and her "Coffee with Claire" Instagram live spiritual show has raised over £84,000 for YAA. Claire's efforts have not only contributed to funds but have also significantly raised the profile and awareness of Yorkshire Air Ambulance worldwide.
Corporate Award: Reed Boardall.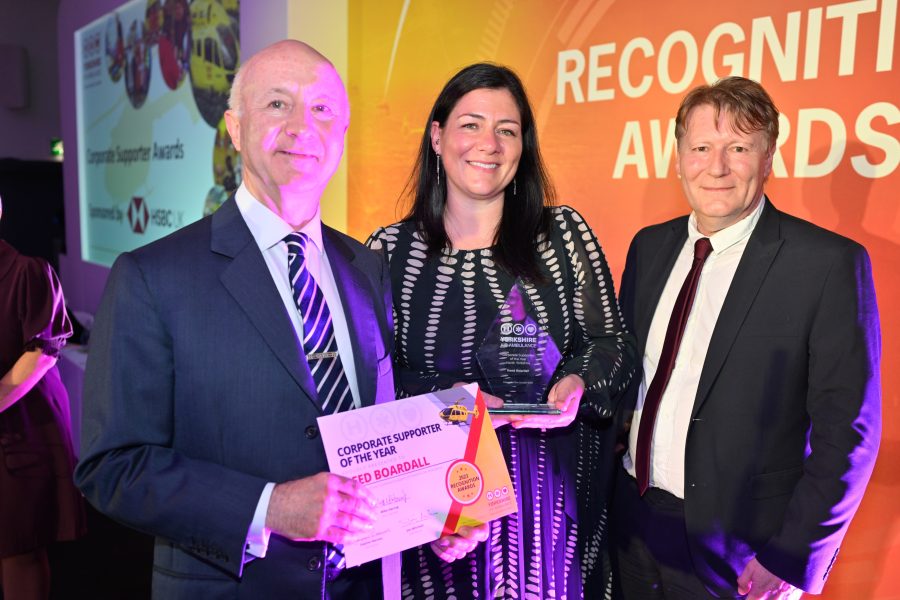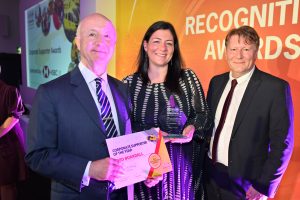 Yorkshire Air Ambulance's partnership with Reed Boardall, initiated in September 2020, has been instrumental in donating over £100,000 for the emergency response charity. The partnership, which includes displaying the YAA helicopter and logo on the back of over 60 Reed Boardall wagons, has not only raised funds but also increased YAA's profile across Yorkshire and the UK. Marcus Boardall, during a recent visit to the Nostell Airbase, expressed the company's pride in their association with YAA. This partnership highlights the shared family values and pride in all things Yorkshire.
In addition to the North Yorkshire award winners, other noteworthy recipients include The Vickers Staff Charitable Fund, who received the Trusts Award., Shepley Springreceived the Outstanding Partnership Award and Peter Sunderland, the former YAA Chairman, received the Lifetime Achievement Award in recognition of his 20 years of dedicated service to the charity.
The Chairman's Award was presented to Sir Geoffrey & Lady Rachael Boycott, in acknowledgement of their exceptional contributions and support to Yorkshire Air Ambulance over the years.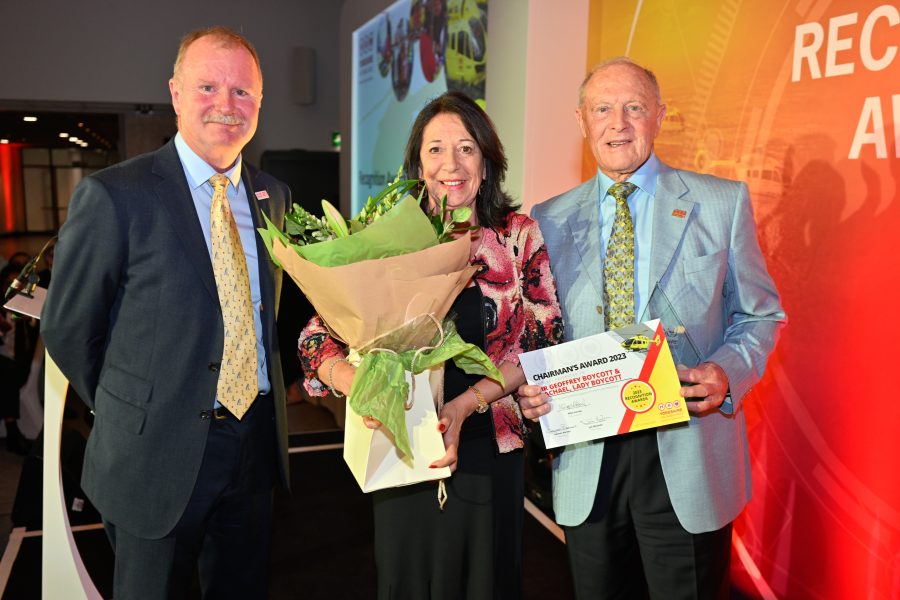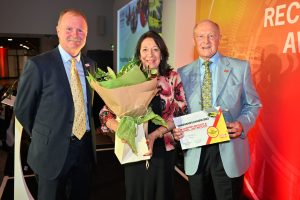 For further stories on winners from South, North, and West Yorkshire, please click here.