In an upcoming episode of "Helicopter ER" airing on Friday night, November 3rd, Yorkshire Air Ambulance's critical care team (YAA) once again showcases their unwavering dedication to saving lives.  Viewers will witness a gripping rescue operation involving Simon Curtis, a 58-year-old motorcyclist, who was involved in a scooter accident in the scenic village of Whitley, near Selby.
On a cold May evening, Simon joined his friends from a local scooter club for a leisurely ride. However, his bike, with a maximum speed of just 60mph, led Simon to fall behind. Eager to rejoin his fellow bikers, Simon gently accelerated to catch up, but as he manoeuvred through a tight bend in the road, he ultimately lost control, resulting in a painful fall from his scooter.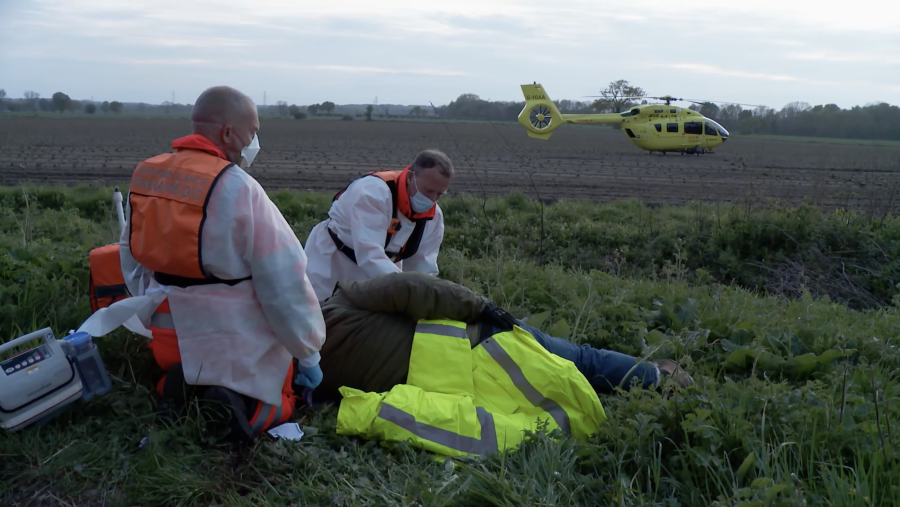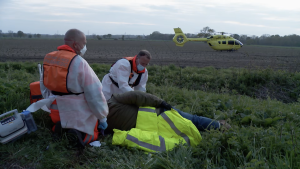 The critical care team at Yorkshire Air Ambulance's Nostell Air Base in Wakefield were alerted to the incident, springing to action. The YAA Pilot skilfully navigated the crew, comprised of Paramedics, Mikie Williams and Al Day and Dr Jez Pinnell, 10 miles east to a remote country lane, ensuring the team's rapid arrival. YAA's medics were the first to arrive at the crash site, with land ambulance crews still 22 minutes away.
A motorist, driving with his family, discovered Simon unconscious and seriously injured in the middle of the road, approximately 12 feet from his overturned scooter, and promptly called for an ambulance. The family remained by Simon's side until help arrived.
As daylight faded and temperatures plummeted, the YAA's medical team had to work quickly to stabilise Simon. Cutting him free from his biking Parka, the paramedics began conducting a thorough assessment of his condition. As Simon gradually regained consciousness, he remained disoriented, complaining of chest pains, and was bleeding profusely from a laceration to his head.
During the assessment, Simon's oxygen levels were alarmingly low, and his breathing was compromised, further emphasising the critical nature of YAA's intervention. The decision was made to transport Simon by road to Leeds General Infirmary (LGI), where a trauma team were awaiting his arrival.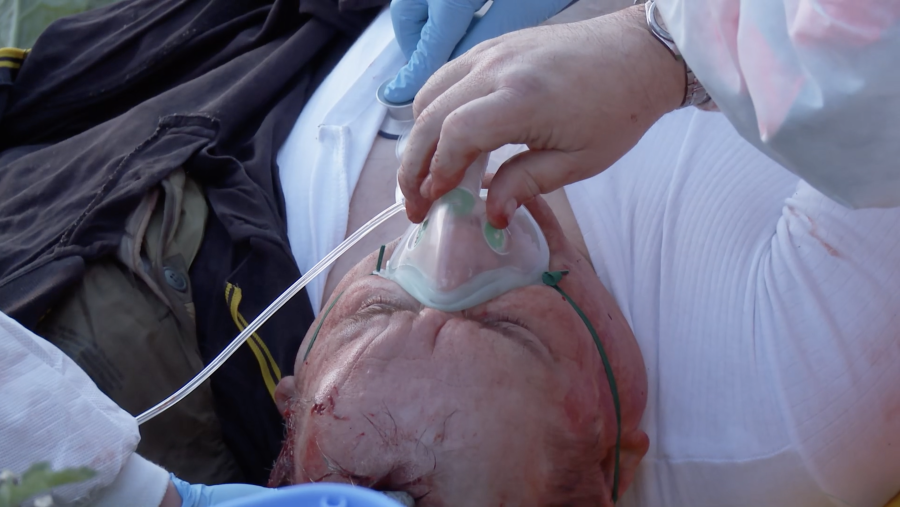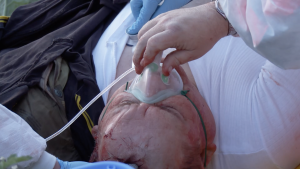 Tests at the hospital revealed that Simon had suffered five broken ribs and a punctured lung as a result of the accident. Following this traumatic incident, Simon required a nine-week hiatus from work to recover, and the experience left him deeply shaken.
When asked about his future with motorcycling, Simon stated, "I have sold my bike and I have no intentions of getting back in the saddle again."
He added, "I remember coming over the A19, past some cottages, and then waking up in LGI in Leeds. I don't ride a high-powered bike, which is why I am often at the back of the line, and that's why none of my fellow riders had realized that my fall had happened. I am incredibly grateful to Yorkshire Air Ambulance for their swift response and for saving me, they are a fantastic charity, that does incredibly important work and I am wholeheartedly committed to supporting them."