From bucket collections to event organisation, talks with local businesses and communities to cheque presentations, we have a vital community of over 200 volunteers that are an integral part of the Charity, helping to spread the word far and wide and keeping the Charity in the forefront of their communities' minds.
Yorkshire Air Ambulance (YAA) is a life-saving rapid response charity serving 5 million people across 4 million acres of Yorkshire and carries out over 1,700 missions every year. We operate two state-of-the-art Airbus H-145 helicopters and need to raise £12,000 every day to keep saving lives.
Our volunteers come from all walks of life, from those who are retired and looking to give up their spare time to some of our former patients who would like to give back to the service that helped them when they needed it the most.
In 2020, we launched our 'What's your why' campaign to celebrate our annual Yellow Yorkshire Day, asking former patients, supporters, and staff why they support Yorkshire Air Ambulance. This year, we are turning our focus on our amazing volunteers.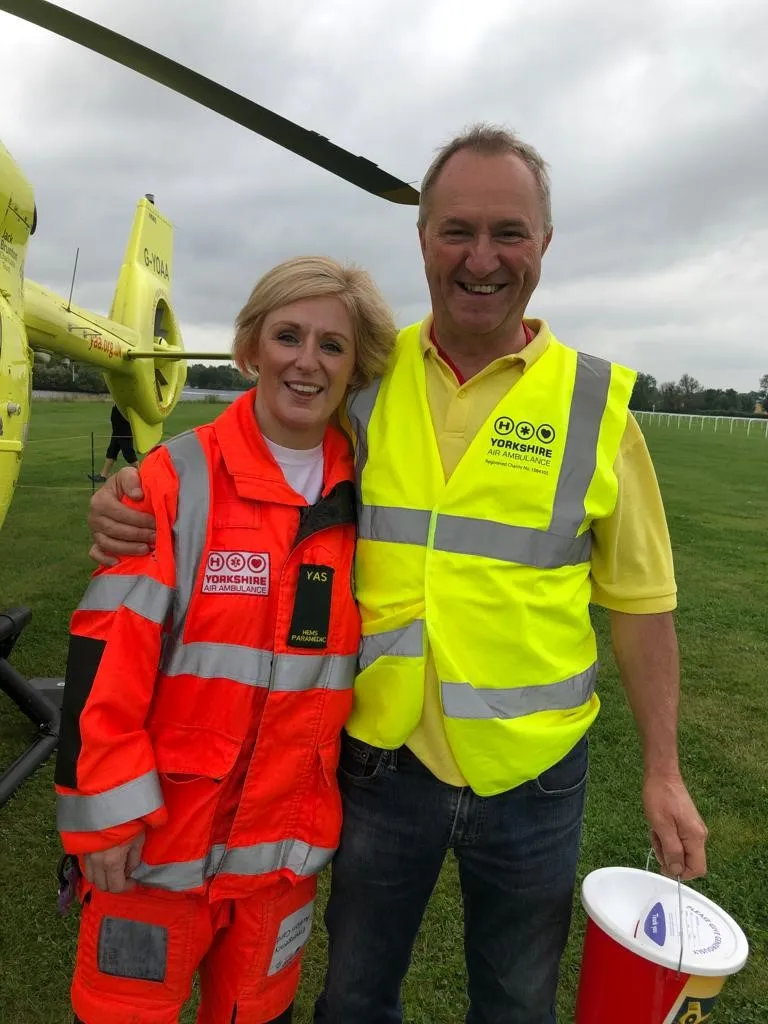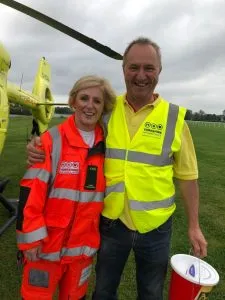 John Mitchell, North Yorkshire Volunteer
John Mitchell is a former patient and volunteers in the North region. In 2014, John from Pateley Bridge, North Yorkshire was crushed by a five and a half tonne machine. Our crew were dispatched, and we flew John to Leeds General Infirmary.
Speaking of why he volunteers for the Charity, John said: "I can't think of words to say to thank YAA for that day they came to help me.  It gives me a great feeling that I am playing a small part for someone else that might need the service in the future."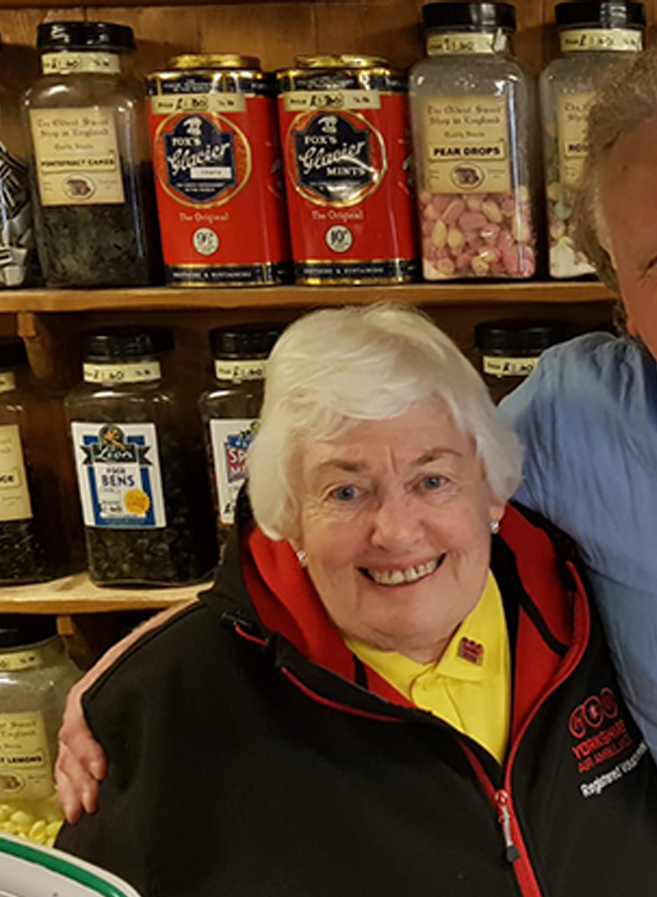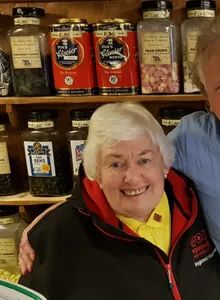 Margaret Potter, North Yorkshire Volunteer
"Sadly my husband passed away and I thought I could either sit at home and do nothing or get out there and do something.  I heard fellow volunteer Mike give a talk about YAA, thought that would be interesting to be involved in, and was put in touch with Helen, the then Community Fundraiser for the North region.  We talked about my interests and I agreed I couldn't bake cakes but would be happy to collect tins.  I now help at events and stalls and have a long list of tin venues.  I always say that YAA saved my life and gave me a life with something to do.  I work hard for YAA and really enjoy what I do", said Margaret.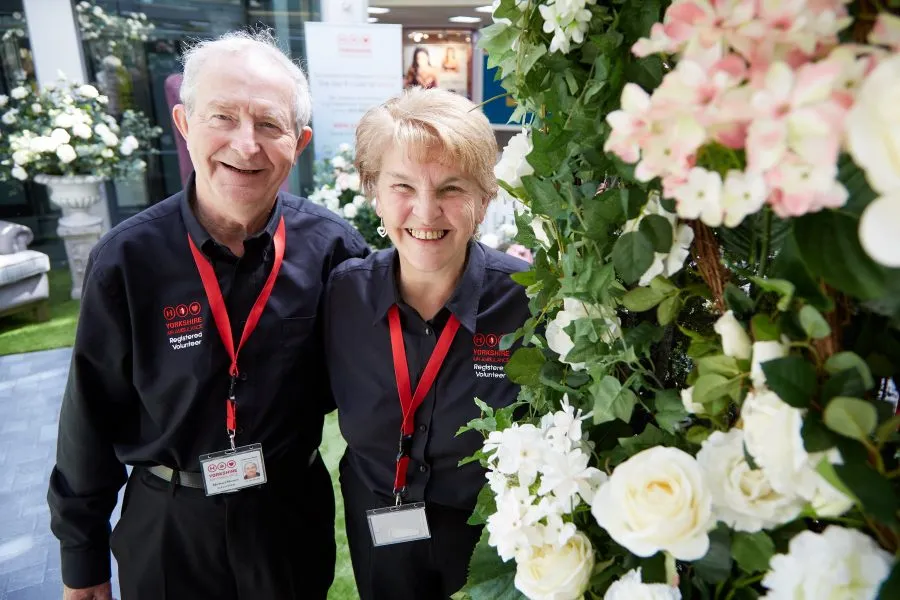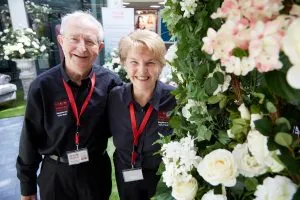 Mike and Elaine West Yorkshire Volunteers
Mike and Elaine volunteer in the West region and also provide vital administrative support in our Cayley House office.
"Volunteering for YAA has introduced us to many lovely people and helped a wonderful charity raise vital funds. We contribute our time and our energies, which in turn help to keep the air ambulances flying. The benefits to us as volunteers are great but the rewards for our communities are even greater", they said.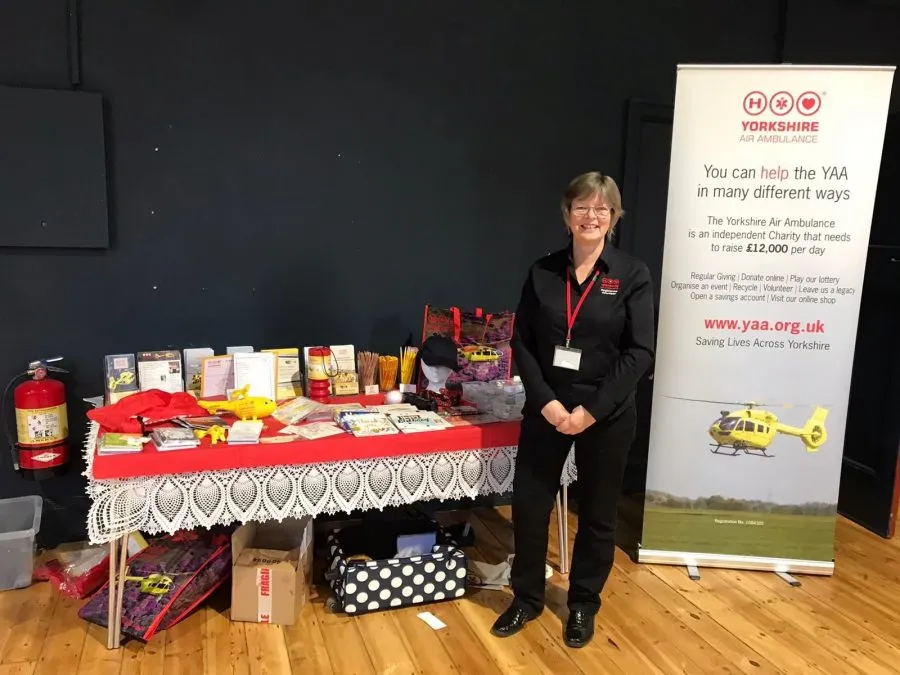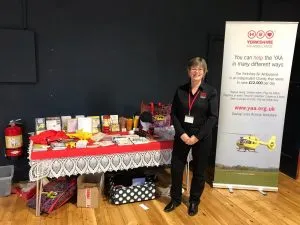 Helen Murray Sharpe, West Yorkshire Volunteer
"I decided to support the brilliant work of Yorkshire Air Ambulance, having seen it on Helicopter Heroes, as it was at the time, on television. So I offered to give my time to do talks to raise awareness of their services and collect funds from groups around West Yorkshire. I've met lots of lovely people and visited some fabulous parts of the county to give the talks. I receive great support from the staff of the Charity and so this means it's a fantastic experience to be a volunteer for YAA. I recommend it", said Helen.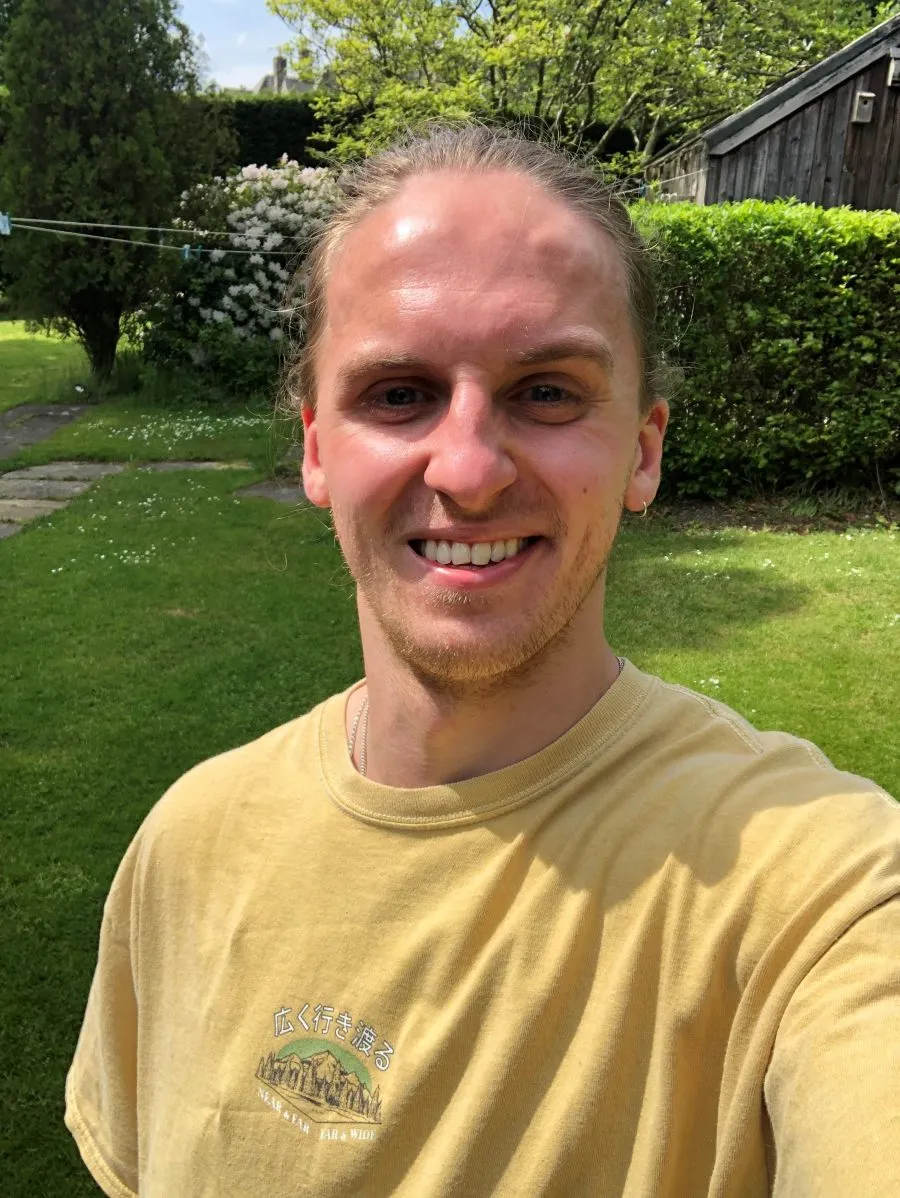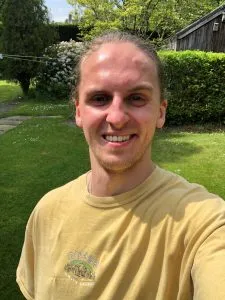 Scott Remmer, West Yorkshire Volunteer.
In September 2016, Scott was involved in a serious road traffic incident in Huddersfield that left him with a traumatic head injury that had a massive impact on his life
Speaking of the Charity, Scott said: "To Yorkshire Air Ambulance, I love you guys dearly, especially those that encountered me back in 2016. I can now proudly and very gladly say, I now feel indebted to this largely unrecognised, yet vital charity. They are lifesavers."
He continued: "After discovering during my hospitalisation, that the heroes that saved my life are a charity purely funded through charitable donations and organisations that kindly offered financial support, I was eager to begin doing the same and offering my help and support in any way that I could. Low and behold, YAA is always happy to recruit passionate volunteers, so thankfully I was welcomed aboard the volunteering team with open arms back in around 2017."
Yellow Yorkshire is a fundraising event held on the first Friday in July, to raise vital funds for the Charity.  Each year thousands of pounds are raised by people dressing in yellow or organising a yellow-themed fundraising event.  This year it will be held on Friday 1st July.
We are also asking supporters to send their own messages of why they support the Charity. This can be done via our social media channels @YorkshireAirAmb on Twitter, Yorkshire Air Ambulance on Facebook, and YorkshireAirAmbulance on Instagram, with the hashtag #whatsyourwhy
Click HERE for more information about Yellow Yorkshire Day 2022.