Anita Bowerman, a talented Harrogate-based artist, known for her intricate and captivating artworks, has once again demonstrated her commitment to supporting Yorkshire Air Ambulance (YAA) by revealing her latest masterpiece in a series of iconic Yorkshire landscape Christmas cards.
In a bid to aid the vital lifesaving efforts of YAA, Anita has dedicated her artistic talent to create a breathtaking design centred around The Piece Hall, Halifax, a celebrated Yorkshire landmark renowned as one of the UK's premier outdoor venues.
Titled "Snowy Fun and Festivity at The Piece Hall, Halifax," the card encapsulates the essence of the season with a stunning purple snowy sky backdrop against the picturesque snow-covered Piece Hall. The heartwarming scene features children joyfully playing amidst the wintry landscape alongside a festively adorned Christmas tree. Notably, the design also showcases the iconic yellow Yorkshire Air Ambulance helicopter soaring through the sky, symbolising hope and support for the charity's life-saving missions.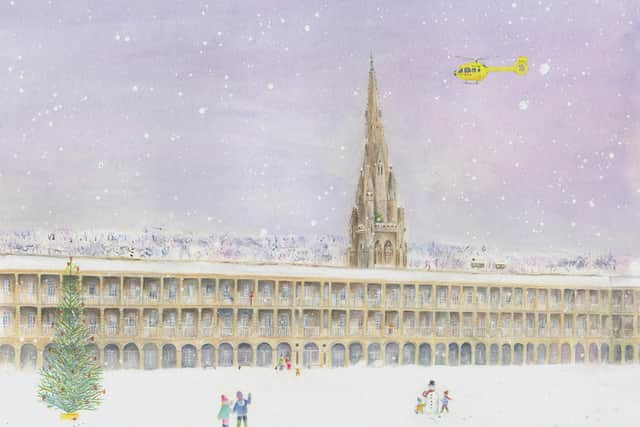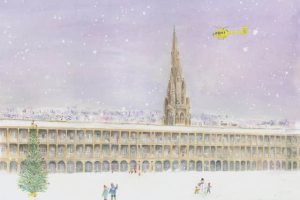 Anita, recognised for her meticulous craftsmanship, created the card using a miniature brush to ensure the intricate details before digitally scanning the artwork for the Christmas card production. Reflecting on her creation, she shared, "'I loved illustrating this new Christmas Card for Yorkshire Air Ambulance, raising essential funds to help them continue their mission to save lives. The Piece Hall is a stunning building which I initially sketched and then painted in watercolour. I loved detail of this design, especially painting the children having fun, the intricate building, and of course the famous yellow YAA helicopter."
With a decade-long history of crafting captivating card designs, previous editions have featured iconic Yorkshire landscapes including Malham Cove, Ribblehead Viaduct, Ilkley Moor, and Whitby, captivating art enthusiasts and charity supporters alike.
The specially designed Christmas cards are available for purchase now, with all proceeds directly benefiting Yorkshire Air Ambulance. Due to the exclusivity of the design, stocks are limited. The cards, which come in packs of 10, are available for purchase on the Yorkshire Air Ambulance website, the Dove Tree Art Gallery and at various events and stalls organised by Yorkshire Air Ambulance's fundraising teams throughout the festive period.
Regional Fundraising Manager for North & East Yorkshire, Linda Stead, from Yorkshire Air Ambulance expressed her gratitude on behalf of the charity, stating, "We are incredibly thankful to Anita for her ongoing support and dedication in contributing her artistic talent towards our life-saving missions. Anita's beautiful Christmas cards not only spread festive cheer, but consistently captivate stall visitors, drawing high praise and admiration for their artistic brilliance, all whilst providing crucial support for our essential services."
This artistic collaboration between Anita Bowerman and Yorkshire Air Ambulance not only celebrates Yorkshire's scenic beauty but also highlights the significance of community support in funding life-saving missions. Click here to view all of YAA's Christmas cards.