Yorkshire Air Ambulance's vital role in saving the life of a young mother following a dramatic nighttime rescue featured in upcoming "Helicopter ER" episode.
Yorkshire Air Ambulance (YAA) played a crucial role in the rescue of Chantelle Hinton, a 28-year-old mother, following a serious car accident that occurred on a freezing New Year's Eve in Doncaster. Chantelle's experience will be featured on the upcoming episode of popular TV series "Helicopter ER" on November 3, 2023.
Chantelle was driving home to her young son when her Mercedes veered off a dimly lit rural road, crashing into a tree in a roadside woodland. A passing motorist stopped and immediately called 999 for help, staying with Chantelle and offering reassurance, until help arrived.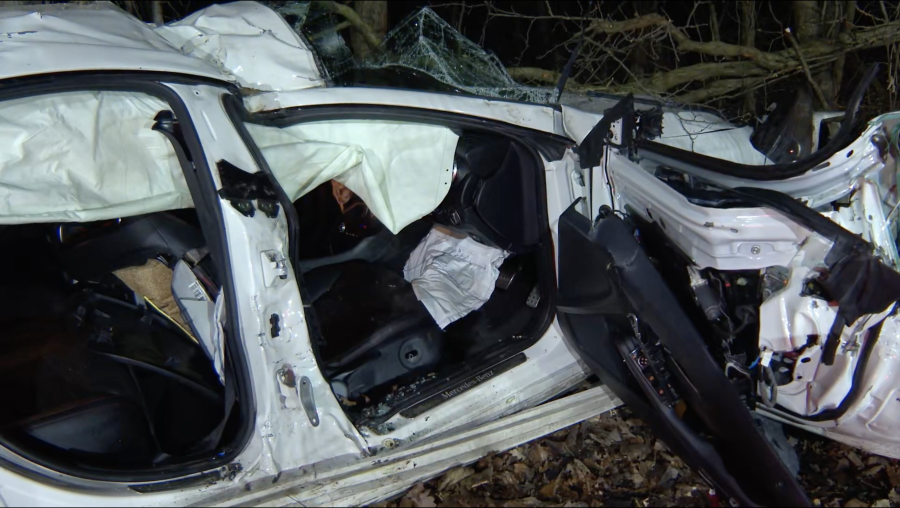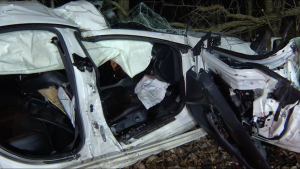 Yorkshire Air Ambulance's critical care team based at Nostell Air Support Unit in Wakefield swiftly sprang into action, with Paramedic Mikie Williams and Dr. Chris Srinivasan arriving at the scene just seven minutes after the 999 call.  The Pilot managed to skilfully land the helicopter close to the incident in a nearby field using the powerful searchlight attached to the helicopter's underbelly.
Upon their arrival, the YAA critical care team joined the rescue efforts alongside local paramedics and fire and rescue services, where the gravity of Chantelle's situation became apparent. She was trapped in her car, pinned at her legs, and had started to experience convulsions. Dr. Chris explained, "Treating a patient at nighttime and in low visibility conditions presents unique challenges, as our ability to assess and monitor the patient is hindered. This becomes especially demanding in large-scale incidents such as this. Time was of the essence, as I was particularly worried that Chantelle might experience another seizure, risking her airway while stuck in the vehicle."
Chantelle remained trapped for over 40 minutes, with paramedics growing increasingly concerned about the dropping temperatures. Powerful painkiller, Morphine, was administered to alleviate her pain during the extraction process.
Following the challenging extraction, Chantelle's condition remained critical. She was semi-conscious and in distress. The decision to transport her to Sheffield Northern General Hospital by land ambulance was made to address the risks of her deteriorating condition during transportation.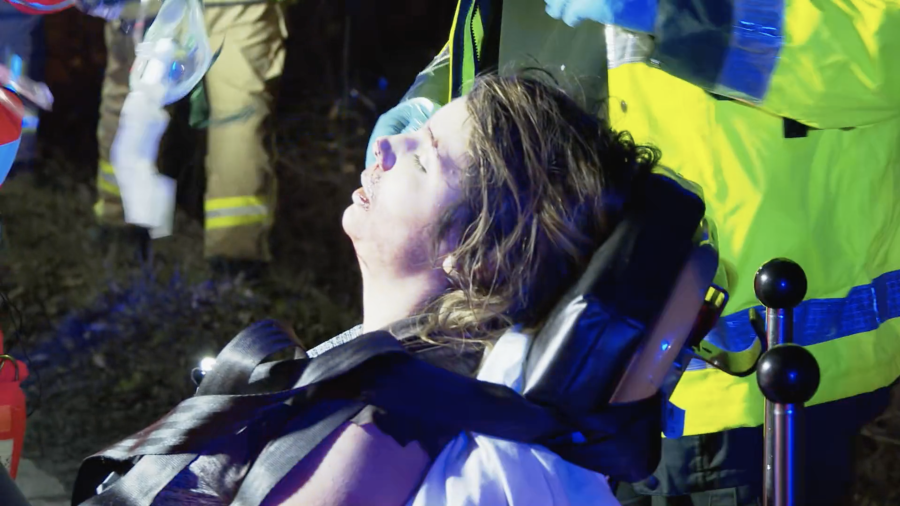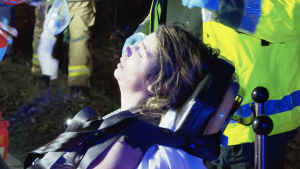 Dr. Chris highlighted the importance of the ability to perform necessary medical procedures in a road ambulance if needed. He said, "My concern was on the way to the hospital; she might have a seizure or worsening of a brain injury. It would be at that point I would have to perform an RSI (procedure to put a patient in a medical coma), but due to the technical nature of the procedure you can't do that while flying, whereas you can easily stop a land ambulance and perform it at the side of the road."
After 3 weeks in the hospital, Chantelle began a painful and slow recovery. She continues to grapple with side effects, including severe fatigue and cognitive difficulties, attributed to her brain injuries. Medical assessments confirmed that she had suffered a fractured skull, facial palsy (weakness of the facial muscles, resulting from damage to the facial nerve), a broken jaw, multiple rib fractures, injuries to both shoulders, two neck fractures, and four spinal fractures. Additionally, she sustained punctures in both lungs.
She shared, "I can hardly recall the accident. All I know is that I was heading home to my son, and that's where my memory fades. The next thing I remember is waking up in the hospital, confused by the extent of my injuries. I had suffered so many physical injuries, but for me the real concern was the damage to my brain.
Since the accident, I've made significant progress, but I still notice how easily I tire, and how quickly I forget things. On long days, my speech can stumble, and words slip from my mind. Through it all, my son has been my rock, a comforting presence who always wants to be by my side, even if he doesn't fully grasp the situation. He's the one who has kept me going throughout my recovery. Reflecting on how far I've come and what I've overcome, I could never have imagined I'd survive this ordeal. I want to express my deepest gratitude to YAA; they saved my life, and I truly believe I wouldn't be here without them. So, thank you from the bottom of my heart."