Yorkshire Air Ambulance's Vital Role in Keith Thompson's Life-Altering Accident Showcased in Upcoming "Helicopter ER" Episode
Keith Thompson, a then 72-year-old retired electrical engineer, will feature in an upcoming episode of the acclaimed TV series "Helicopter ER" as Yorkshire Air Ambulance's critical care team (YAA) showcases their exceptional medical skills during the tense mission.
Keith was in the midst of a DIY project at his daughter's home in the remote area of Sleights near Whitby when a serious accident occurred. While fitting a cooker hood above the hob, he slipped from his step ladder, severing his wrist on the sharp cooker hood and striking his head on the floor. This incident led to severe injuries, including a lacerated wrist, damage to major blood vessels and tendons, and significant blood loss. He also sustained a head injury during the fall.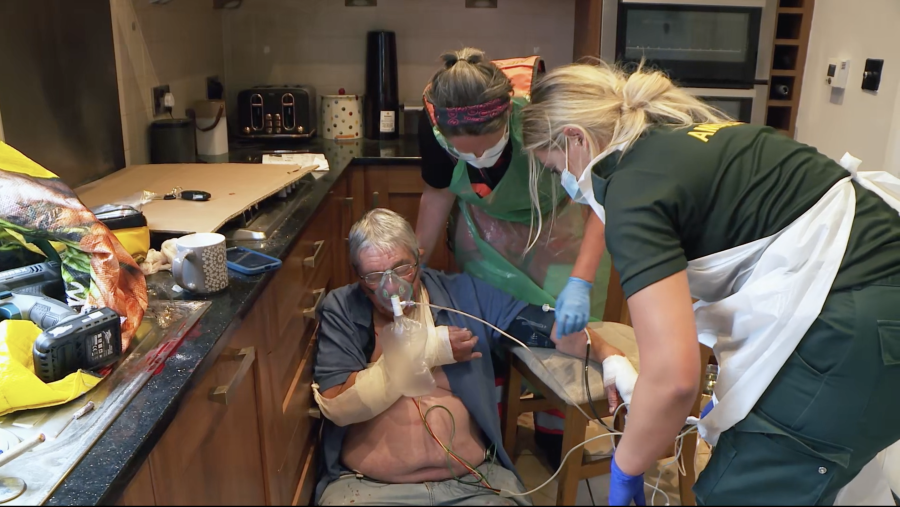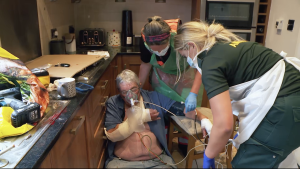 Given Keith's remote location, approximately an hour away from the nearest trauma centre, the situation was dire. Yorkshire Air Ambulance's helicopter was quickly dispatched from its Nostell air base in Wakefield, flying 60 miles to reach Keith. On board were Sammy and Andy, the highly skilled HEMS Paramedics entrusted with Keith's life.
Upon arrival at the scene, Keith's condition was critical, he was pale, clammy, and his vital signs were alarming, with a dangerously low blood pressure that posed a risk of shock. He was in excruciating pain, and his lacerated wrist had caused substantial bleeding.
The paramedics swiftly administered IV fluids to stabilise Keith's blood pressure. Recognising the gravity of the situation and the likely need for surgery, the medical team promptly decided that the best course of action was to transport him to the nearest trauma centre, James Cook University Hospital in Middlesborough, to minimise the risk of nerve damage.
Keith underwent emergency surgery on his wrist to repair seven out of eleven tendons in his right hand that were extensively damaged. While the accident has left permanent effects on the use of his arm and hand, Keith maintains a resilient spirit. He continues to contribute to his local community centre, determined to adapt to his changed circumstances.
Reflecting on the life-saving intervention, Keith shared, "I'm not one to be melodramatic, but with the amount of blood surrounding me, I could see my life slipping away right before my eyes; I knew I was in real jeopardy. The Yorkshire Air Ambulance team, alongside the dedicated local paramedics, played an utterly invaluable role in saving my life that day.
Although my hand won't regain its former function, I am immensely thankful for their presence and expertise. I have so many DIY projects I want to finish around my home, but, for the first time in my life, I will have to entrust them to others, which is a source of deep sorrow for someone like me who has never relied on others for this type of work before."
Also featured in the episode, set to air on Friday 13th of October, viewers will witness three gripping incidents, including Keith's unfortunate DIY accident, a serious motorbike pile-up near Malton, and a distressing incident in which an 87-year-old man on an electric bicycle was struck by a car, resulting in significant injuries.