Stephanie and Giles Bilton will feature on Helicopter ER's season finale 'storm special' episode.
In the upcoming season finale of Helicopter ER, Yorkshire Air Ambulance's (YAA) critical care team are put to the test, as they battle to save the lives of married couple, Stephanie and Giles Bilton, who were in a devastating car accident during storm Malik in January 2022.
The hour-long 'storm special' episode, set to air on Friday, November 17th, at 9 PM on Quest, focuses exclusively on the remarkable rescue operation, allowing viewers access to the critical work of the YAA amidst severe weather conditions.
While driving through the Howardian hills of Yearsley in York to meet their friends for the afternoon, the couple's car was struck by a mature oak tree that had split in half due to the force of the powerful winds. The unfortunate timing of the tree's fall resulted in the pair being trapped in the wreckage, requiring urgent medical attention.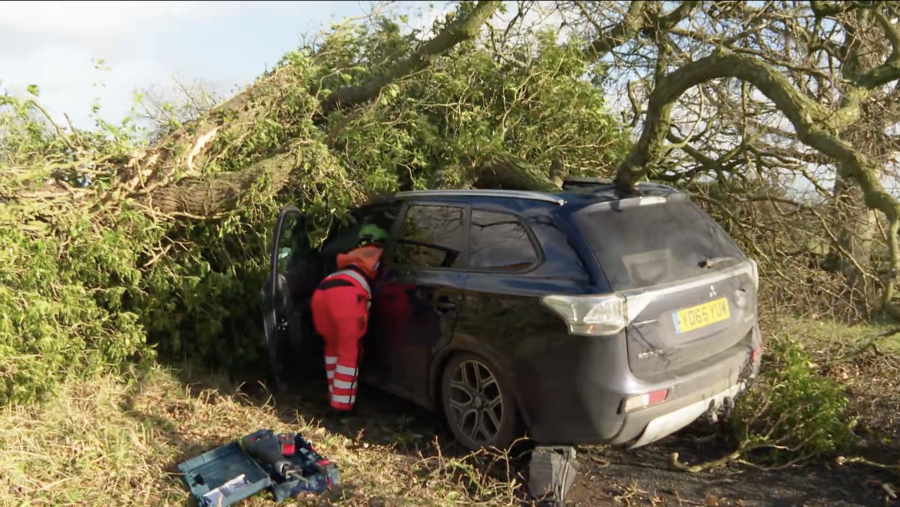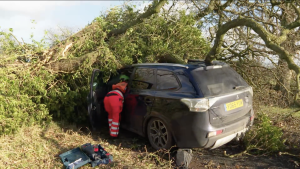 The YAA's critical care team, led by Paramedics Gemma Richmond and Lisa Dempster swiftly navigated the storm's fury to reach the accident site. Pilot Colin Hawkesworth, with three decades of flying experience under challenging conditions, covered the 11-mile flight distance in just 4.5 minutes.
YAA medics collaborated with local paramedics and Fire and Rescue services to extricate the Biltons from the wreckage. Stephanie, who was a passenger at the time, was easily freed, however, Giles remained trapped for over an hour, pinned by large branches covering his chest, shoulder and legs.
Upon examination, Stephanie had suffered a blow to the head, which was causing her to become disorientated, she also had lacerations to her head, face and hands.
Paramedic Gemma Richmond highlighted the delicate balance between urgency and caution during the extraction process, expressing concerns about potential hidden injuries. She said, "When moving things around from on top of a patient, there is always a risk that it might be inadvertently blocking a critical bleed. My foremost concern was that by moving the tree, we could potentially trigger a hidden major internal or external bleed."
After Giles was extricated from the car, the paramedics gained a clearer understanding of the severity of his injuries. His plummeting oxygen levels raised immediate concern, signalling a critical situation. Giles suffered lacerations across his head, extensive injuries to his left side of the chest, and reported numbness in his right hand, with the primary injuries concentrated in his chest area.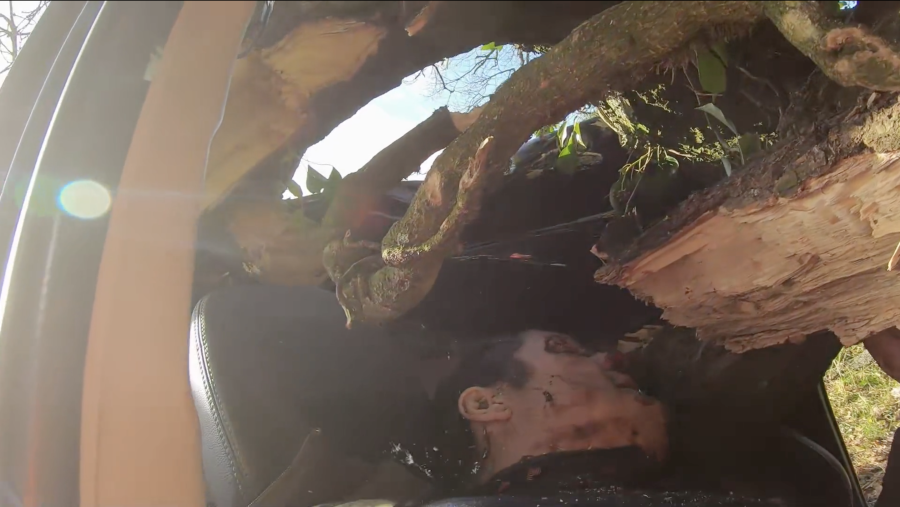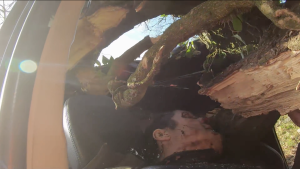 The drastic drop in temperatures made administering pain medication challenging due to the limited availability of viable veins. Consequently, a crucial decision was made to place Giles in a state-of-the-art thermal sleeping bag to rapidly elevate his body temperature and sustain it throughout the transportation process.
Also freed from the car was the couples pet dog who was unscathed from the accident.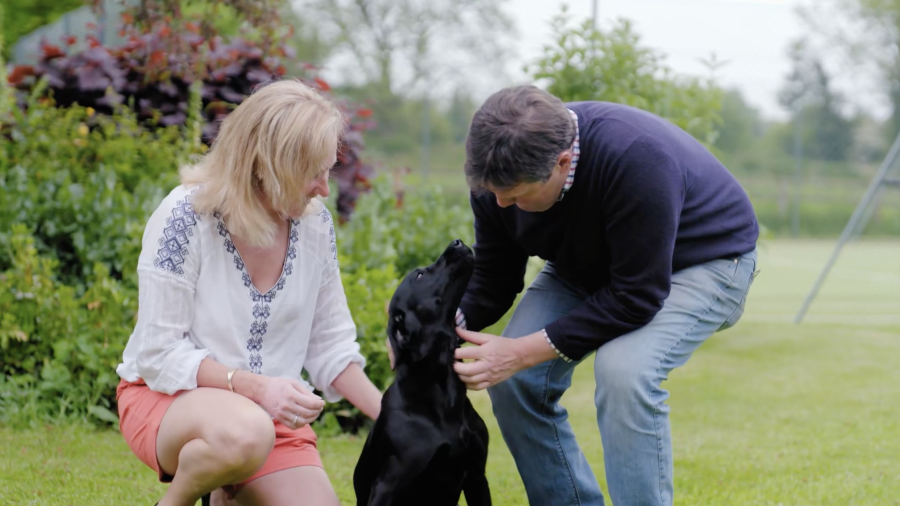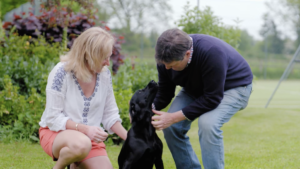 Giles became the priority candidate for airlifting due to the helicopter's capacity to transport only one patient at a time. Despite the weather challenges, the YAA team efficiently airlifted Giles to James Cook University Hospital in Middlesbrough. There, a specialised trauma team were waiting. The couple found themselves receiving treatment at separate locations, approximately 50 miles apart as Stephanie was transported by land ambulance to York General Hospital for her medical care.
Miraculously, Giles survived with six broken ribs, narrowly avoiding fatal injuries to his lungs and heart. Stephanie faced a series of severe injuries, including a broken humerus, and fractures to her shoulder and scapula. She expressed relief at reuniting with Giles after the traumatic event, and her memory of the incident is still clouded by the ordeal.
Stephanie said, "My initial recollection begins at the hospital. The entire duration is somewhat bewildering; it's like your mind clouds over, perhaps a defence mechanism kicking in? All my memories from the day feel somewhat foggy, and a bit muddled. I wasn't informed about Giles' condition initially. The first sight of Giles post-accident was when I returned home from the hospital. Seeing him waiting in the kitchen brought immense relief—We have been married for 32 years, so I can't express the comfort I felt in seeing him again."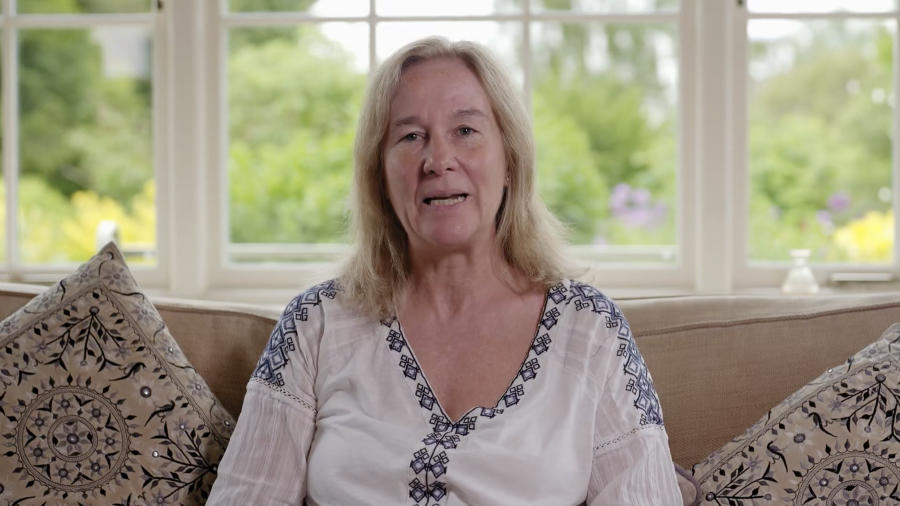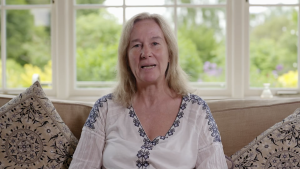 Giles, reflecting on the harrowing moments of entrapment and subsequent rescue, conveyed profound gratitude for the exceptional efforts of the YAA team, recognising the narrow margins that separated survival from potential tragedy. He recounted, "I can still picture passing by the village hall, thinking 'wow this is seriously windy' and then I just recall waking up in a complete mess in a car with a tree all over me. I was pinned to the seat, and I could hardly breathe. The seatbelt was like a ratchet strap – I felt quite desperate at that point.
I remember a farmer talking to me when I regained consciousness, who had informed me that he had called for help. I can't begin to explain the relief when I could hear the helicopter landing beside us. The air ambulance staff were incredible, and I am immensely thankful for everything they did for me and my wife on that day. We were lucky… well very unlucky, to be hit by the crown of the tree, but very lucky to get out of it alive'.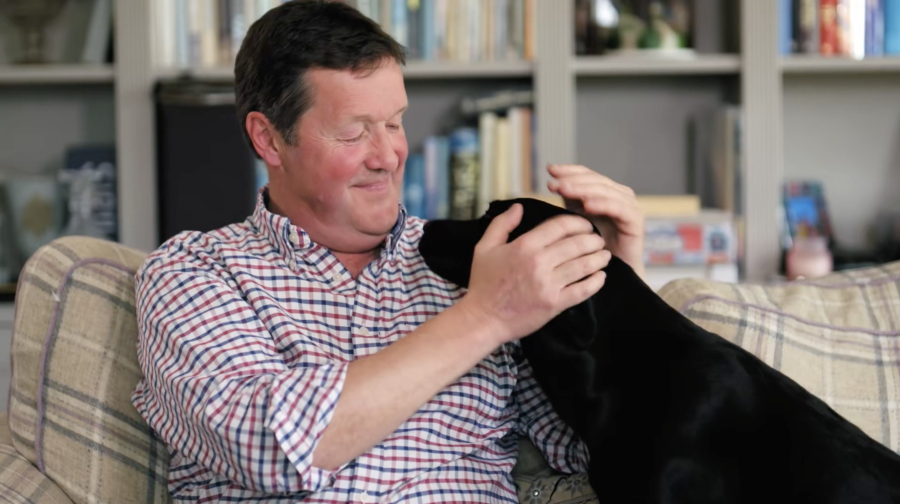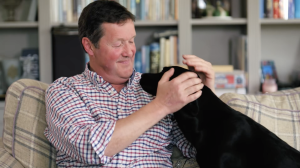 Delighted to find out that the couple had since made a full recovery, paramedic Gemma said, "It's unbelievable that two individuals driving in a car were struck by a tree of that magnitude and managed to survive. A mere few centimetres in either direction and the outcome could have been drastically different. While our helicopter often responds to distressing situations, this particular incident will be etched in memory for its positive conclusion—and a reminder to live for the present moment."