Could you be a YAA Xmas Party Hero?

If Covid has cancelled your office party why not be a YAA XMAS Party Hero and donate the unused cost of that party to Yorkshire Air Ambulance.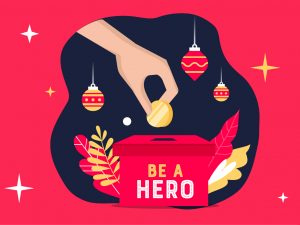 Join many other businesses who are donating the cost of their Christmas party to a charity of their choice this year. You can find out more about the initiative here.
This year, like lots of other charities, we have had to cancelled hundreds of fundraising events which has meant that we have seen a shortfall in the amount we have been able to raise compared with previous years.
We need to raise £12,000 a day to keep both of our state-of-the-art air ambulances maintained and in the air, which is the equivalent of £4.4m a year. Could you and your business be our #XmasPartyHeroes?
If you would like to talk to us about donating your Christmas Party fund contact:
info@yaa.org.uk or call us on 01422 237900