• Sep 11 - 2019 | Posted by j.mcdonnell@yaa.org.uk
Charity rugby match raises £1,150 for YAA!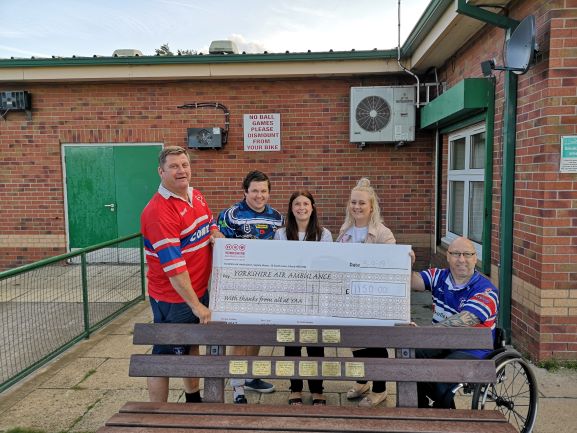 Last week we were lucky enough to attend a cheque presentation with Dean Walker, his partner Olivia and dad Stewart who organised a charity rugby match this summer, which took place on the 10th August 2019. The match was between Ryhill over 35's and Ryhill under 35's. The over 35's won, now leading the race 2-1. The event raised a fantastic £1150.
Organiser Dean said "We would like to thank everyone really, from the players right through to the people who helped & supported this great cause. It was a fantastic success!"
Laura, West Yorkshire Community Fundraiser said "On behalf of the charity I would like to say a massive thank you to Dean, Olivia and Stewart who worked so hard to make this event the success that it was. They have supported the Yorkshire Air Ambulance Charity for a number of years now and for that we are extremely grateful. They should be very proud of what they have achieved."